Potential. Realised.
As legal professionals ourselves, the unified team at Pegasus and Pegasus MRA have a particular interest in and knowledge of how legal firms and chambers operate, the unique demands on your time and the pressures that come with running a law firm and chambers successfully.
Already, we have helped many firms and chambers to change how they think about their business, see how they can work more effectively and how they can turn people potential into profit.
Along the way, we're consistently sharpening our skills, developing our knowledge of our clients and the markets in which both they and we work, whilst staying one step ahead of development methodology.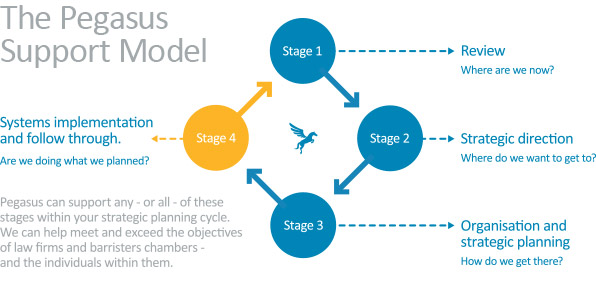 Utilising an extensive network of associates and business partners, we can choose from a diverse blend of pragmatic and business orientated support, tailoring teams or individuals to give the advice best suited to strengthening your competitive, professional, and risk positioning.
The profiles of our core team are set out within the 'Our People' section, whilst we also have a close working relationship with a growing network of organisations.
Fully utilising our network we can deliver:
Targeted strategic and organisational consultancy for law firms and barristers chambers;
Systems and process implementation to fully support agreed development plans
Targeted management, team and individual skills training for solicitors and barristers;
Coaching and mentoring to support and develop individuals and teams and especially provide re-enforcement for any specific consultancy or training interaction.